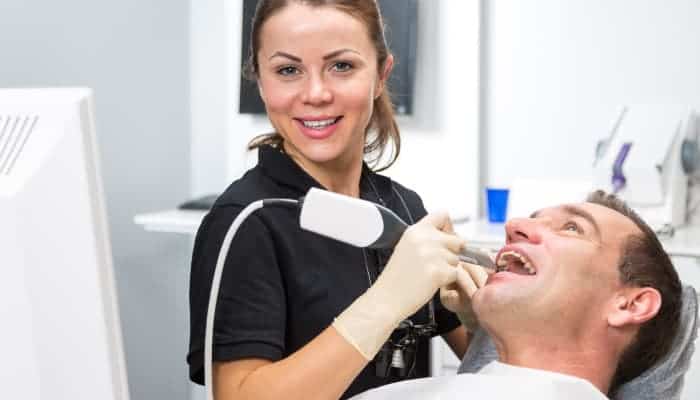 Don't lose hope if you have damaged or decaying teeth. All you may need are dental crowns! While normal crowns take a bit of time to design, manufacture, and place, CEREC®, or Chairside Economical Restoration of Esthetic Ceramics, technology allows you to have custom made, beautiful crowns that are made and placed in just one visit, saving you time and hassle.
How is CEREC® Different?
Normally, you need at least two different appointments to receive a dental crown. During the first visit, your dentist will measure your teeth, take impressions, and provide you with a temporary crown. Your dentist will send the impressions to an off-site facility to make your crowns, which can take about two weeks. During your second visit, your dentist will then place your crown. CEREC® eliminates the wait and consolidates every step of the crown process into one visit.
How Does CEREC® Work?
Instead of taking messy, uncomfortable impressions, your dentist will use CAD/CAM technology to take simple digital images of your teeth and create 3D models from them. Then the CEREC® machine uses a white ceramic material to create natural-looking, custom crowns for you right in the office in just a matter of minutes. Your dentist will also use digital imaging to match the color of your crowns to that of your own teeth. All it takes is one visit to take impressions, create your crowns, and place them!
How do I take care of a CEREC® Crown?
Your beautiful CEREC® crown will function just like a natural tooth, so you don't need to do anything differently in order to take care of it properly. Just brush it and floss it like you normally would!
Why is CEREC® a Better Option For Me?
Not only does CEREC® save you time, but it is also considerably more comfortable. You don't need to deal with messy impressions or having a temporary crown placed while you wait for your crowns to come back to the office, which isn't always comfortable to have.
If you need crowns, consider the simple and easy CEREC® way! At Cary Family Dental, we're here to help you have a healthy smile no matter your circumstances. We offer flexible financing solutions for patients that do not have health insurance and need access to affordable dental care. Contact us to learn more about CEREC® and our other services!