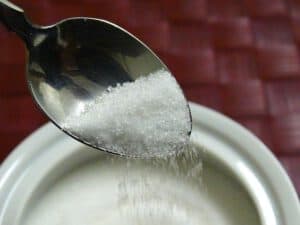 Having a serious sweet tooth can mean bad news for your dental health. But your dentist in Cary has a little secret that can allow you to satisfy your desire for something sweet and benefit your oral health at the same time. It's true! This special sugar substitute is called xylitol, and it's pretty powerful.
A Closer Look at Xylitol
While you may be familiar with the name xylitol, it's benefits are far and plenty, and not many people know exactly what it can do for our bodies and oral health. First, xylitol is a sugar substitute, but unlike other sugar substitutes, xylitol is natural. It's found in both vegetables and fruits as well as in our bodies. Second, xylitol tastes like sugar and looks like sugar, but it certainly doesn't act like sugar. Xylitol has fewer calories than sugar, which can help maintain weight or assist in weight loss. Xylitol also has a low glycemic index, meaning it doesn't cause spikes in blood glucose the way that sugar does. These two things alone make xylitol a pretty solid substitute for sugar. But your dentist in Cary wants you to know that while xylitol can certainly help overall health, it can protect teeth, too.
How Does It Work?
In short, xylitol helps eliminate bad bacteria from the mouth, thus decreasing the chances of the bacteria wreaking havoc and causing decay. Let's take a closer look at how xylitol does this.
One of the most common "bad bacteria" found in the mouth is something called Streptococcus mutans. Streptococcus mutans is the bacteria responsible for plaque buildup and decay. Now, these bacteria love to feed on sugar. In turn, sugar gives the bacteria energy and allows them to multiply. Basically, the more sugar we eat, the more powerful we make Streptococcus mutans, and the more likely it is that we'll suffer from tooth decay. However, what makes xylitol so great is that while the bacteria will still eat it, it doesn't fuel them. Instead, xylitol actually starves the bacteria. In fact, xylitol can effectively lower bacteria levels, sometimes by up to 75%.
Xylitol Gum
Perhaps the most common place to find xylitol is in certain chewing gums. This is great news for your oral health because not only does the act of chewing gum help stimulate saliva production (more on that in a bit), but chewing xylitol gum also provides all benefits offered by xylitol.
As we mentioned, chewing gum produces more saliva. But is more spit actually a good thing? Yes! You see, saliva helps wash away bacteria and neutralize acids in the mouth. This further protects teeth from enamel erosion and decay. Additionally, saliva helps remineralize teeth with calcium and phosphate, making them stronger over time.
Now, even though xylitol is beneficial to oral health, it doesn't replace good oral hygiene. It's still (and forever will be) important to brush and floss your teeth every day. That, along with maintaining regular visits to your dentist in Cary, is a recipe for a happy, healthy smile.