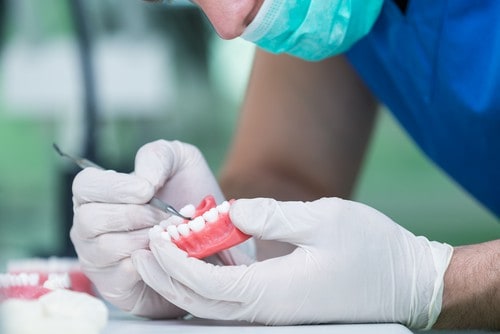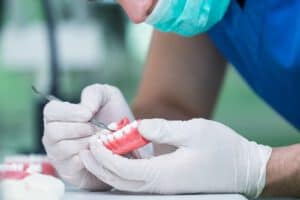 Tooth loss is, unfortunately, incredibly common. In fact, more than 36 million Americans don't have any natural teeth. For these people, dentures can be an excellent solution. Dentures not only replace teeth, they can also help restore confidence and the lives of those who get them. However, your dentist in Cary wants patients to know that dentures need to be properly cared for in order to stay clean and comfortable for the wearer. Let's take a closer look at what you need to know about denture care.
The Importance of Proper Care
Those who decide to get dentures have made an investment to not only replace their teeth but also to enhance their lives and overall oral health. Even though dentures are not natural teeth, they still require specific care in order to last for as long as possible and remain strong, sturdy, and fitting well. If dentures are not cared for, bacteria and plaque can build up and contribute to other oral health problems such as bad breath and gum disease. 
What to Do
There are several things denture wearers should do to protect their dentures. 
DO

remove and thoroughly rinse your dentures after every meal. Doing this as soon as possible following meals quickly removes food particles that may be left behind. If leftover food isn't removed, it can attract bacteria and also lead to bad breath.
DO

brush your dentures every day. Before going to bed, make sure to gently brush your dentures with a soft-bristled toothbrush and denture-safe toothpaste. This will help remove any bacteria that collected during the day and keep your dentures clean. It's also important to brush any natural teeth you may have as well as your tongue, cheeks, and the roof of your mouth.
DO

soak your dentures. The best way to keep your dentures from wearing down and changing shape is to keep them moist whenever they aren't being worn. This means soaking them every night in water or a denture solution. Ask your dentist in

Cary

which denture-soaking solution is best for you. 
DO

rinse your dentures before putting them in each morning. This is especially important if you use a denture-soaking solution. Thoroughly rinse your dentures in warm water before reinserting them into your mouth to wash off any excess solution or particles that may have fallen off during soaking. 

DO

see your

Cary

dentist regularly. These appointments are crucial to making sure your denture is fitting properly and your overall health is in good shape. If you're experiencing any discomfort with your dentures, make sure to talk with your dental team at your visits. 
What Not to Do
Just like there are things you should do to protect your dentures, there are things you should avoid. 
DON'T

use abrasive toothpaste or hard, stiff toothbrush bristles. Anything that's abrasive, including certain toothpaste, toothbrushes, and even brushing too hard can damage your dentures.
DON'T

try to adjust or fix your own dentures. If something breaks or your denture becomes uncomfortable, see your dentist. 
DON'T

drop them or store them in a place where they can easily fall on the floor. Dentures are fragile and can break easily if dropped. 
If you'd like more information about how to properly care for your dentures or if you think dentures may be the right tooth-replacement treatment for you, call our Cary dental office to schedule an appointment. We're always happy to help.