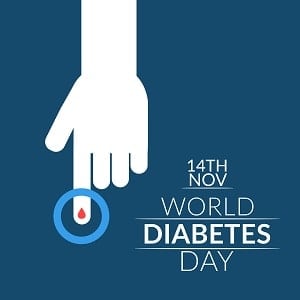 On November 14, the world will celebrate World Diabetes Day, a momentous occasion that serves to bring awareness to the seriousness of diabetes. In fact, more than 30 million Americans alone are living with the disease. But why is your dentist in Cary talking about a disease that affects the pancreas? As it turns out, diabetes and dentistry are more connected than you may think. 
Oral Health & Diabetes
Diabetics and their caregivers are well aware of just how much the disease can affect the body, but an often overlooked side effect of diabetes is directly related or oral health. The truth is, diabetes can increase the risk for gum disease, oral infections, poor healing after dental treatment, and dry mouth. If you're diabetic or have a loved one with diabetes, try these tips to keep oral health in tip-top shape. 
Tip #1 – Regular Dental Care is Key
Practicing good dental habits at home is a great way to reduce the risk of diabetic complications related to oral health. Make sure to brush your teeth twice a day, every day, for two minutes. Use a soft-bristled toothbrush and scrub gently to avoid damaging your teeth or gums. Also, brushing your tongue and flossing every day can take your at-home oral hygiene routine one step further and remove even more plaque and bacteria. At our dental office in Cary, we also recommend maintaining regular visits with our team so we can keep a close eye on oral health. This is especially important if you're diabetic. 
Tip #2 – Eat Smart
Those with diabetes know the importance of eating healthy to control their blood sugar levels, and we can't stress enough how important a well-balanced diet is for your oral health, too. Minimize your sugar intake to avoid blood sugar spikes and to protect your teeth from its damaging effects. Choose fresh veggies, fruits, and whole grains for a complete diet that's not only good for your body but also good for your smile. If you're unsure which foods are best and worst for diabetic patients, talk with your doctor about creating a meal plan. 
Tip # 3 – Level Out
Diabetics are accustomed to checking and maintaining their blood glucose levels, and for good reason. Spikes in blood glucose levels can damage essential organs such as the heart and kidneys. But increased blood glucose can also cause problems with your mouth. High blood glucose in diabetics also means a higher chance of loose teeth or even losing teeth altogether. Another oral health concern related to diabetes is gum disease. Gum disease is a serious condition for anyone, but diabetics may have more problems fighting the infection and, in turn, keeping their diabetes under control. 
Join our dental office in Cary in celebrating World Diabetes Day by wearing blue, scheduling a check-up with your doctor if you suspect you may have diabetes, and of course, always brush and floss.